Ample Vs LyfeFuel: An Honest Head-to-Head Comparison
Posted by Chris Manderino on
Ample Meal Replacement vs. LyfeFuel: A Full Comparison

Are you tired of spending hours meal prepping and counting calories, only to end up with tasteless and unsatisfying meals?
If so, you'd probably benefit from meal replacement shakes to support your health and nutrition while also saving you time and money.
And, since you're reading this article it's likely that you're aware of the Ample Meal Replacement, a nutrition shake that claims to be the ultimate solution for busy individuals seeking a nutritionally complete, convenient, and delicious alternative.
But wait, have you heard about LyfeFuel? If not, you'll want to keep reading because only one of these products can truly lay claim to being the healthiest nutrition shake out there.
In this comprehensive comparison, we'll delve into the nitty-gritty details, dissecting the ingredients, taste, and overall value of both options.
Prepare to uncover the truth behind these meal replacement giants, and discover which one truly reigns supreme.
But, before we dive in, let's get one thing out of the way and address what should be your top concern…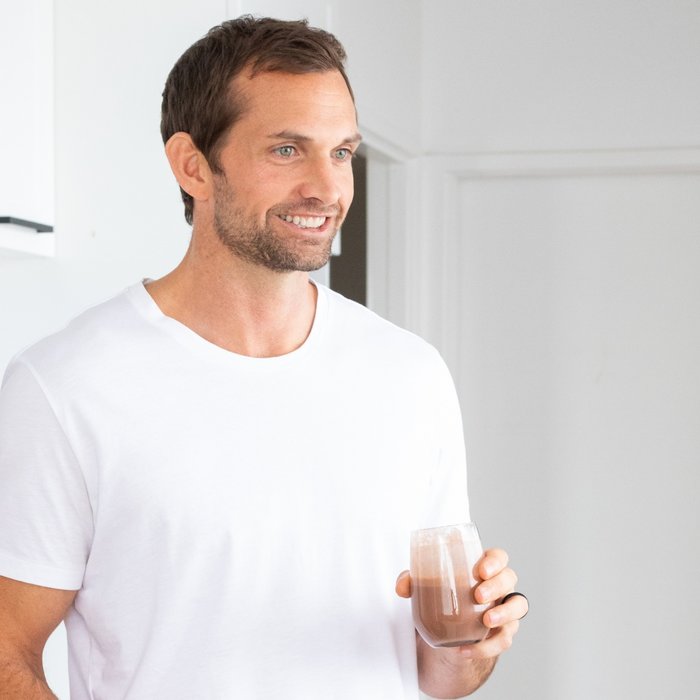 How can this comparison be 100% honest?
First of all, you have to know that I'm the founder of LyfeFuel.
And as the author of this article and founder of LyfeFuel, it's easy to assume there is a conflict of interest so you may be skeptical…and rightfully so.
But that doesn't mean this is a biased comparison. Here's why…
I'm simply presenting objective facts that everyone can see on the websites of LyfeFuel and Ample. (Like ingredients, nutrition, price, etc.)
I know how difficult it can be to navigate the world of nutrition and I genuinely want to help you make the decision that's right for you.
Because just like there's no one-size-fits-all approach to diets and nutrition, the same applies to finding the nutrition shake that suits your individual needs and preferences.
With that out of the way, let's get started!
When To Choose Ample (Ample Original) Over LyfeFuel (Daily Essentials)
If You're Trying To Gain Weight…Choose Ample
Meal replacement shakes aren't just for weight loss.
In fact, they are often used by bodybuilders and athletes to gain weight. As a former collegiate and NFL athlete, this is something I became intimately familiar with.
Sometimes, it's just not possible to get enough calories and nutrients through food alone, especially when training at such a high level.
So, if you're looking to gain weight, go for Ample.
If we break this down in more detail, you'll see that one scoop of Ample is roughly the same amount by volume as LyfeFuel. Ample's single scoop is 36 grams whereas LyfeFuel is 33 grams per scoop.
Here's a side-by-side comparison of the macros of LyfeFuel and Ample (soon we'll also analyze the nutrients and vitamins):
For the sake of getting an apples-to-apples comparison, we'll focus on one scoop of Ample Original vs. one scoop of LyfeFuel's Essentials Shake.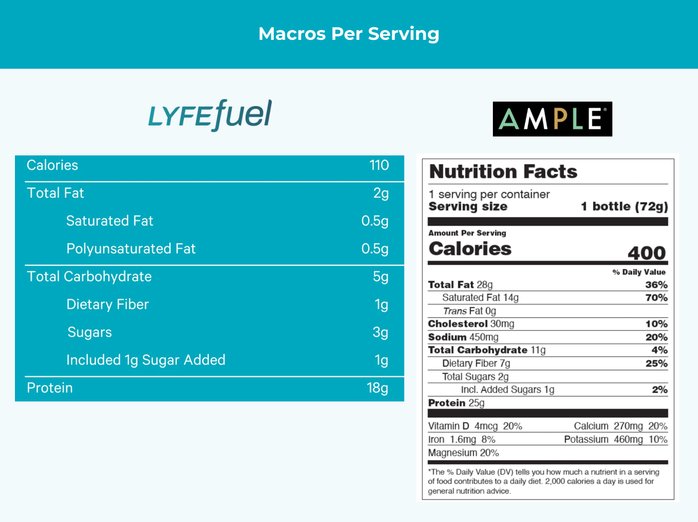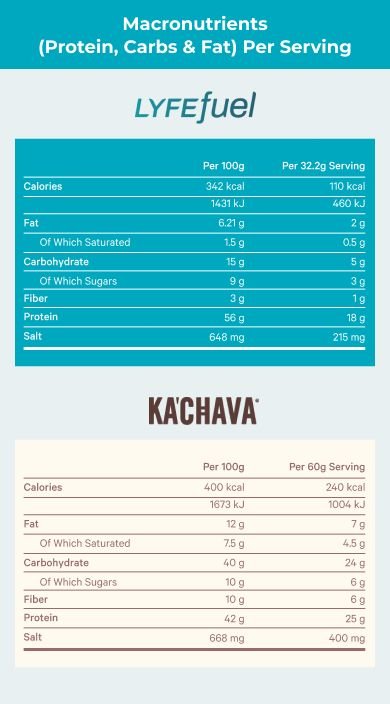 As you can see Ample gives you 7x the fat of LyfeFuel, 2x the calories, the same amount of carbs (6 grams) and 5 grams less protein.
If just adding bulk is what you're after, then Ample is the superior choice. However, if you're looking to pack on lean muscle then LyfeFuel is the clear winner due to the higher amount of protein per serving.
If You Love Super Sweet Food…Choose Ample
Taste is subjective... but some patterns repeat themselves.
From a deep analysis of reviews, and personally trying both products, it turns out that Ample's taste is sweeter than LyfeFuel. 
(Little anecdote: at first, Ample used to be so sweet… they reformulated the blend.)
Ample has a creamy texture and a rich flavor. People often say, "It tastes like a mix of cinnamon and vanilla."
On the other hand, LyfeFuel's reviews say, "It tastes quite delicious. It's not overly sweet, nor does it contain the weird artificial taste of other shakes I've tried ."
When You Should Choose LyfeFuel Over Ample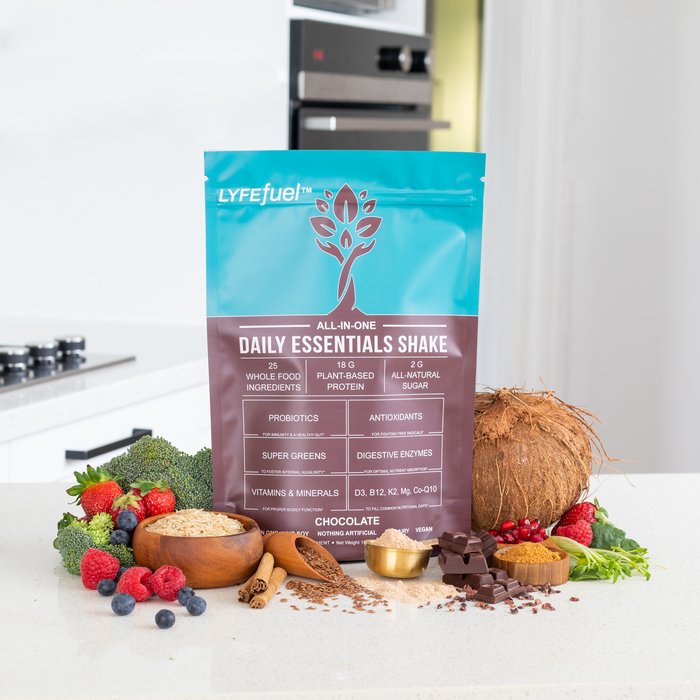 If Your Goal Is To Maintain Or Lose Weight With Ease… Choose LyfeFuel
LyfeFuel has only 110 calories per serving… and has over 2x more protein than fats and carbs combined! This makes it a great option for keto and low carb dieters and especially beneficial for anyone looking to lose fat while maintaining lean muscle mass.
And since protein keeps you fuller for longer compared to carbs or fats...
LyfeFuel has pretty great satiating power...despite the low calories.
For us at LyfeFuel a "meal" should be at least 3 things — nourishing, satiating, and delicious.
And the best part is the "Vegan Protein Blend" of LyfeFuel;
It uses complimentary protein sources from peas and rice to provide a complete source of protein with a PDCAAs of 1.0 (equivalent to what you'd find in animal protein like whey), making it the ideal choice for vegans and those looking for cleaner protein sources.
Ample, on the other hand, uses whey protein and egg white protein - two of the most highly processed forms of protein on the market, which I gave up a long time ago because they destroyed my gut and always left me feeling bloated and inflamed.
Inflammation is the root cause of weight gain and pretty much all chronic disease. So if losing weight and improving health is on your list of goals, you'll definitely want to choose LyfeFuel over Ample.
Ample lists sunflower oil as the 3rd ingredient, which is an ultra-processed industrial seed oil that wrecks your metabolism. Not something you want in your "healthy" nutrition shake, especially if the goal is weight loss.
If You Care About Complete Nutrition… LyfeFuel
Here's the biggest difference between Ample Original and LyfeFuel's Essentials Shake..
One of them has many… many more vitamins and nutrients than the other.
Instead of listing every single nutrient, we've simplified it for you to focus on a few key vitamins & minerals that most Americans are not getting through food.
Here's a comparison of some nutrients in Ample and LyfeFuel: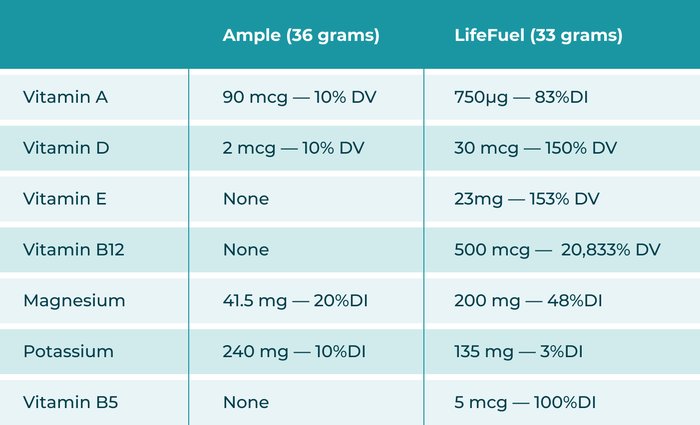 As you can see, LyfeFuel gives you more than double the nutrients compared to Ample.
Moreover, LyfeFuel provides you with some special nutrients you cannot even find elsewhere (at least from my experience).
Here are some:
COQ10… to spark your metabolism and promote your skin's health.
Choline + B12… to boost the health of your nervous system.
Vitamin D3 + K2… to enhance bone and heart health.
And many more.
If You Want To Get The Most For Your Money… LyfeFuel
Take a look at the price of LyfeFuel (Daily Essentials) and Ample (Original):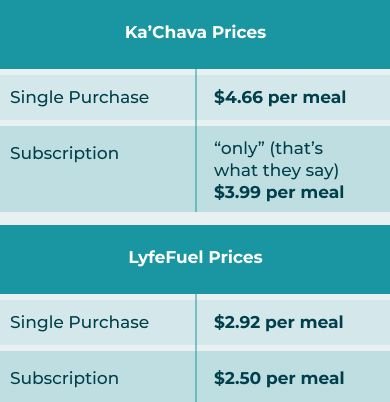 How can LyfeFuel contain way more nutrients and cost almost half the price of Ample?
It's all thanks to our philosophy, "less is more."
Indeed, one "serving" of LyfeFuel is 33 grams, while Ample's is 72 grams.
And to keep things consistent and be fair, let's go back to 1 Scoop of each product, which means we'll divide Amples' price by 2.
When we do that, you see that LyfeFuel is slightly more expensive per scoop ($2.92) than Ample ($2.64). So if you just want the cheapest option then Ample is marginally better for your wallet.
But, if you want the best for your health and don't mind paying a little more, then LyfeFuel is the way to go.
We (at LyfeFuel) use a gentle drying process to remove water from real whole foods… without destroying any of the critical nutrients they offer.
That's why we are able to delete all the fluff from LyfeFuel Daily Essentials. Every single gram of LyfeFuel is vital to "Live Your Fullest Everyday."
If You Crave Organic Superfoods… LyfeFuel
LyfeFuel Daily Essentials uses organic ingredients whenever possible… and where it's not, it uses 100% natural ingredients.
Here are some of our personal Organic Fusions:
Super-Berry Blend.
It's a mix of 6 super berries (Strawberry, raspberry, blueberry, tart cherry, elderberry, cranberry). That gives your body powerful antioxidants to protect against stress and environmental toxins.
Longevity Blend.
A mix of Pomegranate, Grapeseed, and Co-Q10 to promote a longer, healthier life.
Metabolic & Weight Control Blend.
This blend helps you curb hunger, control cravings, and make your metabolism brisker. It's made from Canadian Yellow Peas, Sprouted Brown Rice, Sugar Beet, Flaxseed, and Inositol.
And many more…
If You Want To Get The Friendliest Customer Support… LyfeFuel
"Their customer service is freakin awesome." That's what people say about our customer support.
We can't assure you won't find problems… but we can assure you we'll solve them all for you.
You have nothing to worry about if you choose us.
Summary: When to choose LyfeFuel and when to choose Ample
Choose Ample (Ample Original) if:
You're Trying To Gain Weight
You Love Super Sweet Foods
You Want to Save a Few Cents Per Serving
Choose LyfeFuel (Daily Essentials) if:
Your Goal Is To Maintain Or Lose Weight With Ease
You Want the Best Ingredients & Most Nutrition
You Crave Organic Superfoods
You Don't Mind Spending a Bit More for Your Health
You Want To Get The Friendliest Customer Support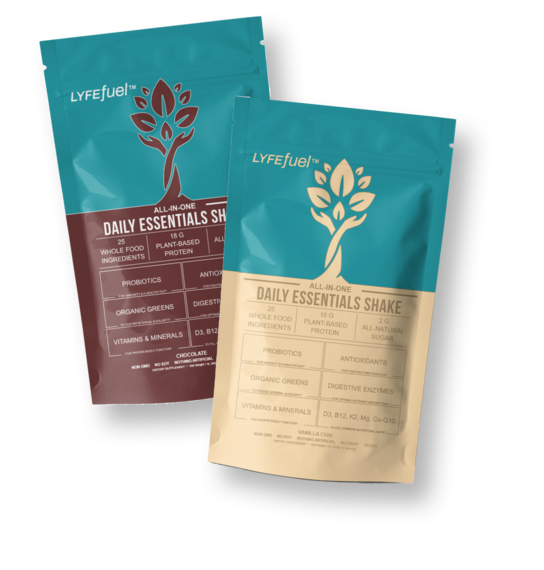 1000+ Trusted Customer Reviews
Control Sugar & Junk Food Cravings
Reboot Your Metabolism
Nourish Your Gut
Improve Health Span
Fill Hard-to-Get Nutrient Gaps
Shop Now
100% No Questions Asked Money Back Guarantee
You're bound to love it! But in that rare case you don't, it's backed by our money-back happiness guarantee.